There are approximately 500,000 Bengalis currently living in the UK. Not much history of those Bengalis who settled in the UK currently exists (except two books written by Caroline Adams & Yousuf Chowdhury). Many of the first settlers are now elderly (sadly some have already passed away) and their memories and experiences are being lost as their testimonies have not been recorded and preserved. Many young Bengalis do not know the history of their elders and cannot easily access information related to Bengali community. The project aims to preserve the memories and experiences of the elders before this loss.
The project will offer unique opportunity to Bengali young people to research, document and celebrate Bengali heritage & history by recording the experience of three generation Bengalis in the UK. Interviews (interviews will be translated into Bengali or vice versa) will be recorded on audio (and if possible on video), materials (including photographs) will be used for exhibition, publication (including learning packs for schools) and website. Original material will be held with the Swadhinata Trust (for its proposed Bengali Resource Centre) and CRONEM but copies will be deposited in the Tower Hamlets Local History Library and other institutions Swadhinata Trust works with in partnership.
Bengali history
An Austro-Asian race first inhabited the region of Bangladesh in an unknown pre-historic age. Then came the Dravidians, Aryans and Mongolians. Archaeological excavations show signs of powerful dynasties who ruled the land till the Turks, Persians and Afghans conquered it in the 11th century and established their rule. After their rule the British in the 18th century took over. In 1947, the British left and the country became the eastern province of Pakistan.
http://www.geocities.com/Athens/Atrium/1344/bangla3.htm
Note: Please note that Swadhinata Trust may not necessarily share the views shown in external links from this site
The neighbouring Indian state of West Bengal shared a common history with the people of Bangladesh until 1947.
For more information about the West Bengal visit:
In 1971 following a nine month National Liberation War waged against Pakistan (see the Wikipedia page on the attrocaties of this war) the people's Republic of Bangladesh was born. The first President was Bangabandhu Sheikh Mujibur Rahman.
Watch a short video clip depicting Bangladesh's volatile history since 1971 to present.
A DVD of the historical Concert for Bangladesh (1971) featuring George Harrison, Bob Dylan, Ravi Shankar, Allerekha and others has been released.
To learn more, visit www.theconcertforbangladesh.com
For more information on the liberation war see:
See also:
The following links give information from various perspectives on the history of Bangladesh:
Bangladesh independence videos:
Indian sites:
Pakistani site:
Desh
Desh means Country in Bengali. Bangladesh is a beautiful country with rolling hills and vast green fields. Bangladesh is bordered on one side by India and on the other by Burma (Myanmar).
The country is 147,570 sq. Km populated by 160 million people. It has the Bay of Bengal lapping its shores. (See the Bengali Info magazine article Facts on Bangladesh
It has six marked seasons in a year, Winter,Spring, Summer, Pre-Monsoon, Monsoon and Autumn (Post-Monsoon).
Bangabandhu Sheikh Mujibur Rahman is the founder of Bangladesh.
The current President is  Abdul Hamid. (See the official Bangladeshi Government website.)
The capital of Bangladesh is Dhaka and the official language is Bengali.
There are many rivers, the principle ones being: Padma, Meghna and Jamuna.
The principle crops and fruits are rice, wheat, jute, mango and jackfruit. Bangladesh is well established by many different industries for example, readymade garments, jute and cotton textile, tea processing, etc. These are the main areas of exports for the country including leather goods and newspaper and fish.
There are other established industries as well, such as steel making, shipbuilding, assembling buses and trucks. There are of course the assembling of radios, TV's and the newly growing computer industry.
The largest forest of the country is known as Sundarban, which is along the southwestern seacoast and it is this forest that gives refuge to the famous Royal Bengal Tiger.
The popular sports played by many in the country are football, cricket, kabadi, swimming and chess. The range of religions of Bangladesh consists of Muslims, Hindus, Buddhists and Christians.
For more information on the history, location, climate, economy, politics and other information on Bangladesh see the Secular Voice of Bangladeshwebsite and the Bangladesh Live website.
  See a short video – Rajakar of Bangladesh
Culture
Bangladesh is home to much diversity and culture . The country has ruins dating back to ancient Buddhist, Hindu and Muslim dynasties. The ancestors of the people of Bangladesh came from many races; Austric, Dravidian,Mongolian, Aryan and so on. It is against this rich background that the cultural aspects of the Bengali people have been shaped which reflects a rich aesthetic past. The Music of Bangladesh derived from the rural beleifs and cultural patterns. The music of Bangladesh has developed through the centuries along three mainstreams : Namely folk, classical and modern
The fusion of Bengali music with influences of the club scene in the UK have combined to create a whole new form of Music. The pioneers of this music are groups like Joi, State of Bengal, Osmani sound, Joi Bangla Banned and of course Asian Dub Foundation The earliest literary compositions in Bengali are the songs called Charypadas composed by the buddhists in the 7th century.
From the 8th century onwards many writers wrote to create the classical Bengali literary traditions. Singers and songwriters such as Lalon Fakir, Pagla Kanai and Hason Raja composed verses which are still heard on the lips of Bengalis today.
Language
The 21st February has been designated by the UN(United Nations) as International Mother Language Day. On this day Bengalis will remember those who lost their lives fighting for the right to speak their mother tongue on that date in 1952.
When the Indian Sub-Continent was partitioned into India and Pakistan in 1947, Pakistan was divided into two parts on both sides of India. The Eastern wing (present day Bangladesh) was populated by the majority of the population of Pakistan, who spoke Bengali, however the leaders in the Western wing declared that Urdu would be the state language of Pakistan.
There was opposition to this from the people from East Pakistan, and demonstrations and processions led to violent dispersal by Police and hired thugs. The leaders in West Pakistan ignored message of the protests, instead they passed a law "Section 144 CrPC" to suppress any protests.
Liquat Ali Khan who was prime minister from 1948 gave a religious decree that Urdu was the language of Muslims and Bengali was the language of Hindus, so Urdu must be spoken by the Pakistanis. When he was assassinated in 1951, Khaja Nazimuddin took over and also ordered that everyone who lived in Pakistan would adopt Urdu as its state language. He came down harder on the protestors, and even when the protests were calling for food for the starving people of East Pakistan due to the food crisis and economic crisis, they arrested the student leaders and attacked them with batons and tear gas.
Among these student leaders was Bangabandu Sheikh Mujibur Rahman, who went onto lead the country to Independence and become the founder of Bangladesh and the first President. The Student leaders kept campaigning for the right to speak their mother tongue and other injustices imposed by West Pakistan, leading procession after procession.
At 4p.m. on the 21st February 1952, police fired on a procession killing Salam,Barkat,Rafik, Jabbar and many other students. This day shall never be forgotten and a monument has been built, The Shahid Minar, to remember these people, and the date is commemorated in Bangladesh as "Shahid Dibosh" or "Martyrs' Day".
See the Shahid Minar in various cities and towns
See also the website of the International Mother Language Institute .
http://www.betelco.com/bd/bangla/bangla.html
Language Movement in India
In addition to the language movement that took place in Bangladesh, in 1961 in the Indian state of Assam, 11 Bengalis were shot dead while on strike opposing the Assam Government's ruling that the Assamese language will be the only recognised state language. For further information click on the May 19 link.
HISTORY OF BENGALIS IN THE UK
Bengalis in the UK settled in big cities with industrial employment. In London Bengali's settled in the East End. For centuries the East End has been the first port of call for many immigrant groups. The Mosque in Brick lane is the living witness to this tradition. The mosque has previously been a synagogue of the Jews and prior to that, it was a church of the French Huguenots. See South Asian Migration Histories Timeline on the Moving Here website and the website of the East End council, the London Borough of Tower Hamlets.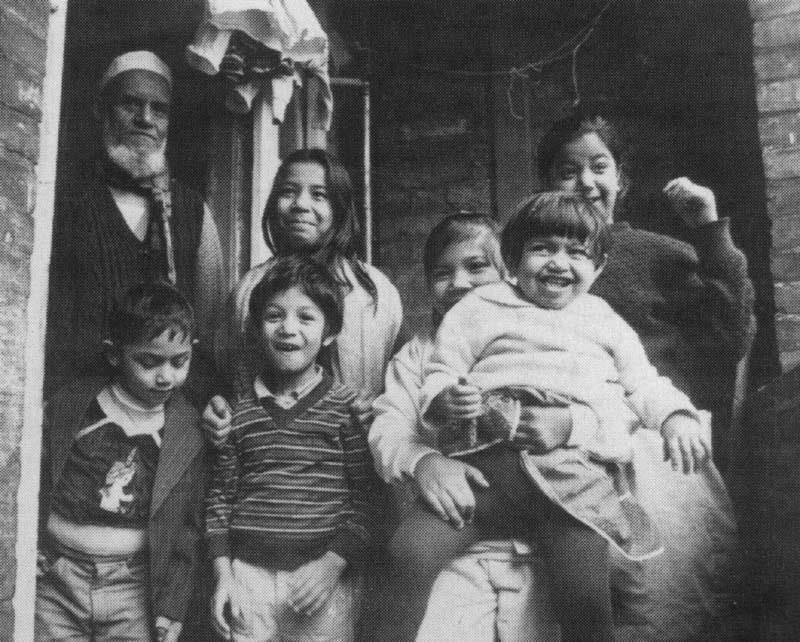 The Bengali people are proud of their history and Bangladesh is home to much diversity and culture. The country has ruins dating back to ancient Buddhist, Hindu and Muslim dynasties.The ancestors of the people of Bangladesh came from many races: Austric, Dravidian, Mongolian, Aryan and so on.It is against this rich background that the cultural aspects of the Bengali people have been shaped reflecting a rich aesthetic past. There are little opportunities for young Bengali's to gain insight into their background. The Swadhinata Trust aims to provide opportunities for all of this.
UK BASED BENGALI ORGANISATIONS
There are a number of UK based Bengali organisations working for the betterment of the Bengali community:
BoB Professionals
At present the UK has a population of about half a million Bengalis. The first generation Bengalis tended to maintain close contact as they established themselves in the UK. To this day, they continue to maintain this informal contact and provide a 'sense of community' through local community associations, mosques and other such organisations.
The last few years has seen the second generation establishing itself in the British society, excelling in education and progressing to professional jobs both in private and public sectors. However there is an ever-growing vacuum among these Bengalis who are increasingly feeling the distance and seclusion from their local communities. BoB was formed to provide these professionals with the opportunity to exchange ideas and discuss.
BritBangla
BritBangla is a celebration of the achievements of British Bengalis from all over the country. The aim is to promote these extraordinary talents and draw attention to the remarkable contribution Bengalis have made to British society.
BritBangla achieve to do this by bringing together like-minded people and build up a strong network of professional Bengalis to collectively share their successes and raise the Brit Bengali profile. British Bengalis who feel they have something to offer are encouraged to take part in the various programmes and projects which will hopefully benefit the community as a whole.
BBPA
The British-Bangladeshi Professional Association is a not-for-profit organisation founded to foster educational attainment and the pursuit of professional excellence in the Bangladeshi community in the United Kingdom.
Banglabangla
Banglabangla enables young people to learn about life in Bangladesh, through information provided by young people with experience of the culture and community. The site's development, co-ordinated by the Humanities Education Centre in the London Borough of Tower Hamlets, UK has involved young people at all stages.
24 Hour Museum – Bengali Heritage in London
Forging a Unique Identity: Bengali Heritage in London Article by By Shruti Ganapathy 23/06/2005
British Bangla Youth
Connecting young British Bangladeshis with Bangladeshi youth project This project was set in motion by RMMRU and aims to develop links between young British-Bangladeshis and their counterparts in Bangladesh.
BENGALIS AROUND THE UK
The Story of Bangladeshi community in Camden
Newham 
Oldham
Birmingham
London Borough of Tower Hamlets
A series of books on East End by author Mayar Akash:
Link to the review: https://bit.ly/2ujsH3J
35 years on – due to be released 2020
Altab Ali – will be released 2020
See History Walk for information about a Bengali history walk produced by Tower Hamlets Council with Swadhinata Trust's assistance Visit Brick LaneTextile workers in east London;
Gloucestershire
Luton
National
Bengalis outside of Bangladesh and Europe
Bengalis in Continental Europe
Netherlands
Some German Bengali Websites
Poetry
The first three poems featured were written by young people at the workshops with Joyti Grecht.
The first poem, 'Chi Chi Chi' is by Juned reflecting on the damage caused by drug abuse.
The second is by Halima Begum about how parents always worry about what people will say about their children's behaviour.
The third poem is by Foyzur Basit about the terrible loss of his father.
Further poems were included in the Swadhinata Trust magazine and have been reproduced here: 'Txt bhondu' by Khudeja Mannan; 'No Escape' by Nilima Ali; 'Observer' by Tahimina Sharmin and 'A Cup of Cha' by Rabeya Alam.
More recent additions to the poems on the site are, 'Time' by Jamirun Nessa and 'What will you do?' by Husne. These are from the March 2004 edition of Bengali Info magazine.
Also reproduced here are poems by established and classical Bengali Poets. Examples are the Beginning by Rabindranath Tagore, one of Bengal's greatest poets and a translation of Lalon from Songs of Lalon Fakir By Samir Dasgupta. Also included is Prayer for Rains and the Brave of Heart by Abu Zafar Obaidullah.
Poems
Mike Raggett was living in London in 1971 when Bangladesh War broke out. He was aware of the Bangladesh War of Independence through Anthony Mascarenhas' Sunday Times article. However, he did not become an activist at the time as his son had just been born and his daughter was on the way, so he had family duties and had no connection then to the Bengali community in London.
But he was lucky enough to go to Bangladesh in 2009 and became good friends with Shamim Azad and her daughter Eeshita at that time and have remained so since. A couple of years ago they asked him to be a Trustee for British Bangladeshi Poetry Collective and stimulated him to start writing poetry himself. Mike Raggett's career was as a TV and video producer working mainly in education and training, so he had written lots of drama and documentary scripts but never poetry.
Attached are three poems that feature the War of Independence. The first he wrote for Shamim's storytelling walk in Spitalfields on 4 July this year hence the reference to US Independence Day. The second and third he wrote recently for an event celebrating Bangladesh's 50 anniversary.
DESH OF THE BENGALIS
O Desh of the Bengalis I do not know you well
but what I know I savour – you give me many tales to tell.
I've eaten fuchka from a street stall on Manik Mia Ave
been awed in the Shaṭ Gombuj mosque down in deepest Bagerhat
I've been to Comilla and Rampal, to Khulna and Jessore,
Stayed at the BTB tea resort in leafy Srimangal
bought honey from a farmer in ancient Painam Nagar.
I've bathed in the Madhabkundu Falls as we made our way north to Sylhet
the home to so many of London Deshis.
Back in Dhaka I've sailed the Buriganga and toured the Lalbag Fort,
I've also seen the martyrs' blood at the Central Shaheed Minar
which prompted the following thought.
In 1971 safe at home in London UK I followed events 5000 miles away
with a sense of guilt and horror at what we'd done
when we drew that thoughtless line in the sand
through towns and villages – no thought for peoples' lives
imperial independence was nothing of the sort
our 'liberating' actions tore countries and people apart
with hardly a moment's care.
We watched as those we'd forced together in supposed democracies
fought to be free of new masters – ruling from 2000 miles away.
It was no better than the Raj and in many ways much worse
as the native tongue was forbidden, no more joy from Tagore's fine verse,
like my Catalan friends under Franco, just speaking your language was a crime.
I watched in horror as the war unfolded with 'brothers' in Islam
killing each other in the most distasteful ways.
I've learned more of the war through writings both academic and popular histories
and fiction's tales that make the horrors real,
I've enjoyed music and dance that show the Bengali zeal.
It was later my joy to visit the delta myself and meet heroes and survivors
who touched my deepest soul.
So now, with the guilt of Empire heavy on my back,
may I be allowed to offer my humble words
in celebration of the struggle 50 years ago that led to the Bangladesh we now know
and it's Independence Day elsewhere today
so let's join in applauding freedom from tyranny everywhere
and praise the right for people to be themselves
and speak their language wherever in the world they are.
© 2021 Mike Raggett
Lines written for a storytelling tour of special Bangladeshi places in London
curated by my dear friend Shamim Azad – 4 July 2021.
WHEN 'IN' TURNS FROM BAD TO GOOD
It's strange how the prefix 'in' so often means something bad
In-ability means you can't do what you want
and puts pressure on everyone else.
In-active means something doesn't work
and alternatives can be long and hard to find.
In-decision is when you can't make up your mind
causing delays and problems for others.
In-dolent means lazy and indicates
someone who doesn't really care
In-sincere means you never say what you mean
so how can we know the real you?
In-operable means you're going to die
Well we all are
but it's hard to take this blunt announcement.
But then in 1971, 'in' prefixed something very special –
In-dependence for Bangladesh
freedom from British and Pakistani rule
freedom to speak your native tongue
Bangla heard in the streets no longer a crime
this was the time when 'in' became good
The in-ception of a new country
which could now freely celebrate its heritage.
The in-stalling of a true democracy
within a secular, in-clusive state
The in-auguration as president of Bangabhandu
who would guide his land through its formative years.
Fifty years later through industry, innovation and intellect
the country grows and prospers.
Can I in-vite everyone to hail Bangladesh – the land of the Bengalis?
Joy Bangla! Joy Bangla! Joy Bangla!
©2021 Mike Raggett 09.08.2021
A Bangladeshi welcome
On my first day in Dhaka I went for a walk.
My flight had arrived on time and I was met by a car
Which I delayed for some time as I found
That my luggage was still in Dubai
and would only reach Dhaka next day.
So I had to go and to buy a shirt in the Banani Kacha bazaar
as a lone white man venturing into the unknown streets
I was keen to see how I fared.
The heat and crowds I'd expected, but it was all so much more intense
the noise and dust too were surprising.
but the colours and food odours were exciting
as I found my way through the morning throngs.
It took a while to find a stall with a shirt to match my size
you see, I'm a bit taller than your average Bengali
but we finally haggled for two that would see me through
and parted with handshakes and smiles.
Throughout my stay to my colleagues at work
I was that strange and curious guy
The one who broke all the rules; I walked around and took CNGs
rather than the pool driver I could have called,
I even bought a rickshaw to help out a new-found friend.
I enjoyed the streets and thrived on the atmosphere
That I'd have missed sealed up in an air-cooled car.
I also wanted to travel to the countryside
because Bangladesh is not all about Dhaka.
I made it to Bagerhat, Jessore and Khulna
Sylhet and Comilla, but sadly not Cox's Bazaar.
I was targeted by beggars but felt that that was fair
they must have wondered why on earth I was there.
Otherwise I was made truly welcome in cafés, schools and homes
and made friends there who are still my friends today.
I try to spread awareness among my British friends
of what a fine country the Bangla desh is
and how the lengthy hurt takes time to mend.
So celebrate independence, rejoice at turning fifty
and use poetry to tell the tales
of suffering and resilience that make the people proud.
© Mike Raggett 27.08.2021
Jewish museum in Calcutta
The Jewish museum, Magen David Synagogue, opened in Kolkata in September this year.
To find out more information on the museum please click the link below